A Werewolf Opportunity, Obviously
Two-Month Release Delay + New Demo Content Soon!
---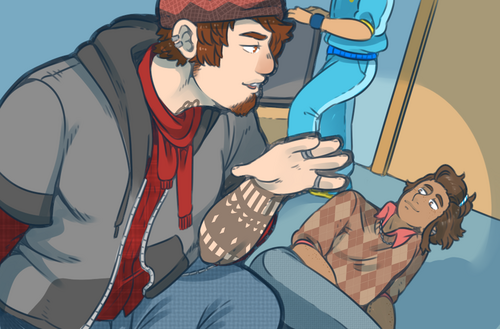 (Art by DCS!)
Hey, everyone!
While it's still January, I wanted to give you all a quick update on when it's looking like AWOO will launch. I had a pretty turbulent 2017 -- through multiple bouts of sickness, I moved twice and started making preparations to move a third time in 2018 -- and it's been a little difficult to keep working full-time on what's (at least financially) a single-person project. Both DCS, AWOO's artist, and Nat, its musician, have been awesome support who've done incredible work, and all the people I've consulted have been a huge help, but a lot of the time I end up working away on the production side and providing funding by myself.
What that means is that AWOO's release date is getting pushed back from the anticipated Spring (my personally-intended May 13th) to Friday, July 13th. I'm really sorry that it's going to take a little bit longer! I don't want to rush myself or any of the other people working hard to make AWOO a reality beyond what we're humanly capable of, so this is me making sure we can all stay healthy and put out our best quality of work. 300k might not seem like much to read when it's parceled up into five 60k packages, but a lot of work goes into something this size, and illness-related burnout is the absolute last thing I want to run into again!
But I don't want to leave you with absolutely nothing, so I'll be overhauling the demo and increasing the amount of conversations you're able to have! It's growing from a three round speed friending visual novel with 27 possible conversations to nine rounds and 81 possible conversations; you can keep your eyes peeled for that sometime on Tuesday, February 13th. There's plenty of new conversation topics and an overhauled user interface that should make the selection experience much smoother, plus a chance to experience some of Nat's music he's making especially for AWOO!
TL;DR, I'm releasing an expanded version of the demo on February 13th and have moved my expected release date for the full dating sim to July 13th. (And a tiny AWOO-/Bomb-adjacent demo for something else in March, but more on that later!)
Thanks so much for your patience and support so far, everyone! I know this isn't the best news, but it's meant so much to me that people are excited for what I'm doing. I want to work with DCS and Nat to deliver the best dating sim that I personally can, as quickly as I feasibly can.
See you next month with more demo content!
-Ivan Katz ❤
Get A Werewolf Opportunity, Obviously